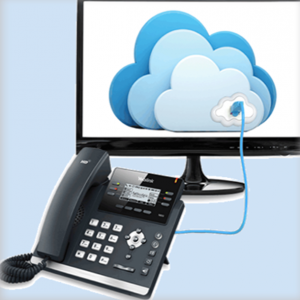 Today's business world moves faster than ever and missing a call could mean missing a sale.  If your using an antiquated phone system which utilizes an older phone line, unreliable phone handsets, or phones that anchor you to a particular spot in your office with limited features and abilities, then you should explore a better solution.
More companies in the U.S. are taking advantage of a CloudPBX phone system now than ever before.  Businesses of all sizes are using their existing internet line to enable their employees to use a fully manageable, easy-to-use phone system that offers cost-saving capabilities your team needs.
How Does CloudPBX Stand Up to Traditional Phone Systems?
Traditional phone systems live on-site.  They're clunky, complex, expensive, and are difficult to maintain.  CloudPBX, however, removes all of the on-site components to a cloud-based platform, reducing expense, and offering modern phone features that a modern business needs.
CloudPBX is a business phone system which is hosted entirely on off-site servers and uses your existing internet line to provide clear voice and rich features that traditional phone systems simply can't. Cloud-based phone systems use a technology known as Voice over IP (VoIP).  VoIP is an internet-based means of transmitting and receiving phone calls.  Using the internet to route calls creates a clearer and more concise method of communications.
Since the phone system lives off-site in data centers, there is no need to maintain extra hardware in your office.  CloudPBX takes the old phone system and virtualizes it to run as powerful software on a server that your CloudPBX provider, like Natural Networks, maintains for you.
Features and Benefits CloudPBX Offers
CloudPBX-based phone solution providers offer a broad set of benefits over their traditional counterparts.  When working with Natural Networks to setup and maintain your CloudPBX phone system, you will get all of these great benefits:
Fully Managed – Technical experts who are trained to know and manage your phone system are always just one click or call away.
Turn-Key White Glove Solution – Training, configuration changes, and up-to-date management solutions are always available for your phone systems.
Never Miss Another Call – Calls can be forwarded automatically to your cell phone even if you're out of the office or experiencing something, like a power-failure, in your office.
No Paying for Unused Extensions - You can save money by not having to pay for unused extensions. Only pay for the phones and lines you are using.
Rich Features and Integration – CloudPBX phone solutions offer rich phone-based features, like call recording, instant dialing, instant messaging, and after-hours calling so callers can dial other extensions or emergency lines when calling after-hours.
Video Conferencing – One of the key benefits of Natural Networks CloudPBX system includes the ability to host and join video conferences. Using the built-in phone software, you can easily setup or join video conferences to collaborate with your team. You also have the capability of sharing files, whiteboard, and screen sharing.
Bring Your Phone with You Anywhere – CloudPBX unleashes you from having to use your phone in only one place. With the use of a software-based application, you can use your phone from your laptop, your cell phone, your desktop, or anywhere you are able to connect to the Internet.
Natural Networks has been a provider of CloudPBX phone solutions for years and can help get your system set up and running smoothly and quickly.  We see the many benefits from CloudPBX's amazing phone features and can help you transfer your old phone system to a Cloud-based PBX phone system when you are ready to take advantage of advanced, next level communication for your business.  If you're interested in learning more about how you can benefit from a CloudPBX system, give us a call today.