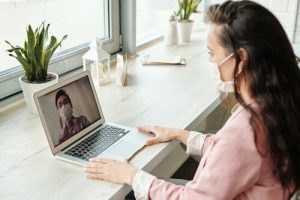 The 2020 year was difficult for almost all businesses, small and large, across the spectrum.  The COVID-19 pandemic created a new reality that many businesses had to quickly adapt to and has brought forth new methods and procedures as to how to conduct business.  From moving staff into remote work spaces to dealing with strict sanitization measures and practices, the infamous 2020 year has had no shortage of surprises.
2021 is expected to continue with the "new reality" we have been forced to become accustomed to over the past year.  With the new norms in place, new cybersecurity threats continue to rapidly surface as well.  As people have migrated to remote work and have more and more accepted and acclimated to the digital space in their personal lifestyles as well (i.e., online delivery, ordering, and bill paying), so, too, have hackers and cybercriminals ramped up for more infiltrating and scams in order to steal identities and data. As we continue to embrace the online platform personally and professionally, here are some cybersecurity threats to be aware of and how to defend against them.
New Threat Vectors
According to cybersecurity experts at Webroot, remote work from home is likely to stay at the same levels in 2021 and will, also, likely not recede to pre-pandemic levels in even the medium-term.   Companies will need to continue to adapt to their remote workforce by considering security measures, providing more online educational opportunities, and dedicating more of a commitment to innovation.  Post-vaccine, cybersecurity for remote workforces will still be a prevailing concern throughout 2021 even as workers begin to potentially return to the office.
David Dufour, vice president of engineering at Carbonite & Webroot, believes that many businesses will continue to operate remotely as a result of the pandemic and emphasized the need for employers to have employees trained on security best practices.  Identifying threats, like phishing attacks, and best practices in storing or accessing company data will be tantamount to keeping critical data secure.
Workers who are now working from home will be using personal routers and network equipment to access work data.  If they do not have a computer provided by their employer, they will likely be using their home computer to perform their duties.  These devices may be vulnerable and may also be utilizing outdated security methods and protocols.
Grayson Milbourn, security intelligence director for Webroot, reported that the biggest change for 2021 will be securing remote workforces and remote perimeters, which include these home networks and home devices.  Other issues with home set ups are that many home networks use out-of-date routers with insecure settings and the fact that personal devices are twice as likely as business devices to get infected and, if not addressed, can lead to serious impact on the business as a whole.
It will be crucial that companies work with their IT teams, or their Managed Services Providers (MSPs) to help ensure that their remote staff are utilizing the best security practices for their home networks and devices.  Educating remote workers on avoiding phishing emails and infectious links will also be an important strategy to ensuring total security.
Employees should avoid clicking links within message bodies from emails that they are not expecting, or from users they can't identify.  Users should also avoid downloading attachments from emails whose sender cannot be identified as well.  Workers can always view the full header of a message to verify where it's from and can also hover the mouse over a hyperlink to reveal what the full URL of the website is so they know where it will take them to.  Educating your remote workforce on these simple security practices can help save a lot of headache and catastrophes in the future.
Ensuring that remote workers' networks are using the best possible wireless and network security is important as well.  Employees using wireless in their home should ensure that their router is using at least WPA2 WiFi encryption and that their router has the latest firmware installed.  They should also have an active anti-virus running at all times on their devices that they are operating and make sure they are patched with the latest Operating System updates.
Cybersecurity will continue to be a point of concern as we continue to adapt to our new work environments in 2021.  As we adapt, MSPs, like Natural Networks, will be here with expert solutions and recommendations for all of your IT needs.  If you want to learn more about IT security, give us a call today.