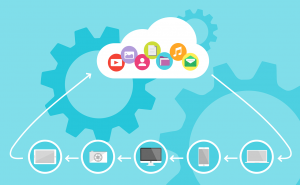 Owners and managers of businesses from large enterprises to small single offices are taking advantage of mixing cloud-based technologies with their in-house operations.  These hybrid cloud environments are bringing advantages to companies that help with workstation management, data storage, security, and so much more.  Hybrid cloud environments are always bringing new advantages to businesses that offices of any size can take advantage of.
What is a Hybrid Cloud Environment?
The term 'hybrid cloud' refers to a mixed computing, storage, and services environment of which is made up of an on-premises infrastructure in addition to one or more distinct cloud infrastructures (i.e. private or public) and is orchestrated amongst various platforms. These infrastructures remain unique entities, however, and are bound together by standardized or proprietary technology that enables data and application portability (e.g. cloud bursting for load balancing between clouds).
A hybrid cloud environment typically incorporates a level of workload portability, orchestration, and management across 2 or more environments.  It is usually made up of at least 1 private cloud and at least 1 public cloud, 2 or more private clouds, 2 or more public clouds, or a bare-metal or virtual environment connected to at least 1 cloud service.  This could be a private or public cloud, but is typically public.
Advantages of Using a Hybrid Cloud
A hybrid cloud can help with a large assortment of solutions for your business.  Hybrid cloud solutions can include off-site secure storage that can be accessed and managed from anywhere in the world. This allows team members to share, and access data improving workflow and work efficiency any time.
Combining the advantages of a cloud-based system with your on-site technology can help the scalability of your office hardware, server infrastructure, data storage, and security.  This enables your employees to be able to complete their work whether at the office, at home, or away.  No longer does your staff have to physically be at the office to access the data they need to work on their projects.
A hybrid cloud system can allow data to flow more efficiently and securely between members and staff within your office.  Users can continue to use their own workstations with their data in a local environment. This allows them access to a remote, secure work environment where they can use specialized software in order to access data securely and collaborate more effectively.   
Hybrid Cloud Solutions are Tailored for Your Business
As a premier cloud solutions provider, Natural Networks can discuss a plan with you for a hybrid cloud environment. Natural Networks can also help virtualize, not just your workstations, but your server infrastructure as well, making it more secure and freeing up space within your office. 
Hybrid cloud solutions offer many advantages for any size business:
Secure Online Storage
Access Data Remotely
Work from Anywhere with Internet Access
Secure Backup Solution
Increased Work Flexibility
Easily Scalable Work Environment
Environmentally Friendly
Moving to a hybrid cloud offers so many advantages for businesses of all sizes.  Natural Networks is a managed IT services and cloud provider, and our experts can help you take full advantage of the Cloud for your business.  If you want to learn more about how we can assist you in all things IT, give us a call today!