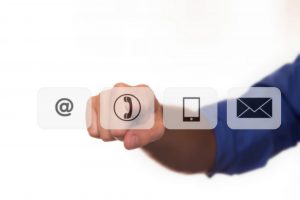 Do you find yourself struggling to keep up with business demands with your current voice solution?  If you're like one of the thousands of small & medium-sized businesses that rely on a consistent phone system to make and receive calls, then you may have heard of VoIP or Voice over IP.  One of the biggest misconceptions around Voice over IP is that they are only for large enterprise offices, but this couldn't be farther from the truth.
Today, VoIP voice solutions offer flexible plans and options that are tailor-made for medium and even small-sized offices with only a few employees.  The advantages in cost savings and reliability also greatly benefit offices of any size.
What are the Advantages of Using a VoIP Service
VoIP-based voice services offer a wide array of advantages which go towards improved calls, a more simplified way to make and receive calls, and application advantages which improve employee productivity.
VoIP users are able to make and receive calls by using their existing broadband internet connection.  This improves reliability while enabling smart applications that can assist you and your employees in making calls, scheduling meetings, creating conferencing, and much more.  Plus, VoIP voice solutions are more reliable than older legacy phone systems and require minimal installation requirements.
Voicemail – With VoIP, you get enhanced voicemail features that allow you to activate, deactivate, schedule, and customize your voicemail as you need directly through your phone or VoIP application on your computer.  VoIP services also allow you to bring your voicemail with you by forwarding voicemail via email so you can access messages directly from your smart phone.
Instant Messaging Service – VoIP systems also include instant messaging, which allows your team to collaborate on meetings, sales, and other quick details that don't require a call to each other's extensions, thus, freeing up more time for calls to be made and received.
Call Forwarding – Applications go a long way with your VoIP services making it much easier to forward calls to a cell phone or another extension directly from the application.  You can also set personal statuses which automate when and where calls are forwarded to directly from the app.  For example, if you are heading out for lunch, you can set your extensions status to 'Away' and automatically forward calls to another line or your cell phone.
Call Recording – You and your employees can easily record calls when needed by accessing this feature from the VoIP app on your computer or mobile app.  Call recordings can then be saved directly to your computer and shared for reference or training purposes.
Security – VoIP is a much safer voice solution compared to traditional analog telephone lines as well.  Modern VoIP solutions utilize encryption standards to make sure your calls are private and secure.
These are only a few of the many benefits that come with a modern VoIP solution that can help bring your office to the next level. If you're interested in learning more about how a VoIP voice solution can benefit your business, give us a call today!