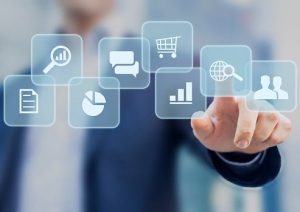 The Internet of Things (IoT) has been a rapidly growing part of the consumer and business class technology infrastructure.  These devices are part of a growing number of electronics that are making life easier with convenience and efficiency for business owners, homeowners, and office workers alike.  Everyday devices, like light bulbs, vacuum cleaners, thermostats, security cameras, and many other devices, are all increasingly becoming connected to give us more data and improve workflow.  IoT can be a massive benefit for the office when used appropriately.
Ways That IoT Can Help You
1. Track Maintenance for Printers
Your office may have a single printer or multiple printers.  Most printers are already internet capable, but newer printers, which include smart alternatives, are starting to surface on the market that allow for more than just networking capabilities.  New smart printers are able to monitor paper and ink levels and can warn users when they are running low through their phones or via an email.  They can also connect to inventory systems to know how much spare ink or paper they have on hand and can make orders without employee involvement.  With these improvements in smart printing, you may never have to order or wait for new ink or toner again.
2. Intelligent Lighting with Smart Bulbs
Your office can benefit from smart lighting in various ways.  Smart bulbs can be programmed on schedules to save on energy and having to activate them manually, replacing motion sensors.  More flexible bulbs with different colors can also be set to adjust brightness and color throughout the day.  This can help minimize eye strain, stress and discomfort.
3. Smart Vacuums Can Cut Down on the Need for Custodians
If you're in an office that doesn't include custodial services or you want to cut back on the need for such services, smart vacuums and cleaners have been improving with each new generation.  On a routine basis, robotic vacuums, like the Roomba or Eufy, can clean clutter and office dirt tracked in from the outside.  This can limit routine custodial services for deeper cleans rather than costly regular cleaning visits.
4. IoT Sensors Can Heat Map Your Office
One of the newest ways IoT has been used to help productivity in the business world has been to help track activity within the office.  A system of connected devices – like those offered by Mapiq - can monitor activity in break rooms, conference rooms, hallways and throughout the office floor.  You can quickly identify areas of congestion or rooms that never get used.  With this information, you can think of better ways to utilize office space or reorganize the office environment to work better with your staff.
5. Tracking Equipment with IoT Tags
Tracking your office equipment like laptops or other devices can be difficult for any office that doesn't use a BYOD (Bring Your Own Device) policy.  Handing out laptops, phones, or other tools means having to track it all using a central database. Sometimes, it can take weeks to track down a missing device. IoT tags, such as those from Aruba asset tracker, assist in helping you find your devices quickly and easily.
Using IoT to find devices to help map out your office or improve the work-flow of your business is becoming a more essential part of every business owner's needs.  With a Managed IT services provider like Natural Networks, we partner with you to come up with a strong business game plan and educate you on how best these devices can help with efficiency and cyber safety in your organization.  If you have a need for a professional IT services company that will strengthen the technology in your office, give us a call today!