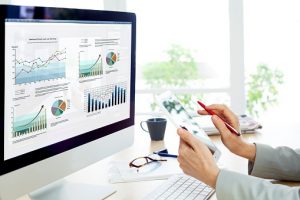 Most offices that are too small to hire a dedicated IT person, but have grown to having multiple printers and computers, may find that a Managed IT service provider is the right solution for their technology needs.  A Managed IT Services company can provide the support you need for your computers, printers, network, and other office tech needs saving you time and a lot of headache.
The Benefits of Managed IT Services
Using a Managed IT services company, like Natural Networks, can free you of the hassles of dealing with ongoing technology changes by keeping systems up-to-date, providing needed hardware and software and setting up new computers as well as decommissioning old ones.  A Managed Service Provider, or MSP, will handle all of your technology problems and resolve issues often before you even realize there are any.  Here are just some of the ways you can benefit from the use of having a Managed IT services company working for you.
Managing Your Office Computers
In the modern-day office, computers are everywhere – be it laptops, smartphones or desktops – it's likely your employees are using a computer to get their work done.  With computers, however, also comes setup, updates, virus protection, and a slew of other potential problems that could create downtime for your employees, and possibly data loss, if not done correctly.
Managed IT services means that a company is dedicated to monitoring, updating, configuring, and maintaining the computers in your office. They can monitor your computers remotely and push out updates to them as needed without disturbing the work flow.  A Managed IT services company also provides malware protection that can prevent infections from affecting your employees' computers and spreading across the network to other devices.
Assisting with Network Maintenance
A Managed IT Services Provider will be able to inspect and monitor your office network and make recommendations where needed.  Any problems your office network may run into can be quickly resolved by your Managed IT Services Provider as well.
An additional bonus to having an MSP is having one source for all your technology needs. No longer would you need to remember which provider to call for help for your internet, phone, back up, e-mail, or anything else technology; just one phone number.  Call your Managed IT Services Provider to help with any of your network related issues and they will be able to work with your internet provider or anyone else to get your problem resolved as quickly as possible.
They may even make recommendations and assist with expanding your network when it's needed or replacing equipment as well.  A Managed IT provider, like Natural Networks, can provide you with a robust firewall that will help keep your network protected and running at its best at all times.
Whenever your office may need network or IT support, you can request it 24/7 from a Managed IT services company, like Natural Networks.  If you want to learn more about how Managed IT Services can help you, give us a call today.