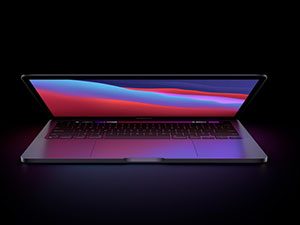 Apple has officially released the first generation of their new M1 series CPU powered computers, promising faster speeds, better battery life, and overall greater performance.  The new line of MacBook Pro, MacBook Air, and Mac Mini desktop computers will feature the Apple-engineered M1 processor with the hopes of eventually bringing this chip across their entire line of products.
Performance Enhancements Promises with Their New Chips
Although Apple is known to keep their hardware performance numbers close to the vest, recent benchmarks of the new M1 powered Mac computers are very promising.  These new laptop and desktop offerings are now running a first party processor, which means first party software will have the capability to take full advantage of the CPU's efficiency and power consumption.
Apple software, like Final Cut Pro, for example, have greater rendering times, while Apple branded hardware – like RAM and hard drives – can work more efficiently and use less power overall.  Apple claims that this means users can get a much stronger performance with less hardware and smaller batteries.
The M1 chip is considered a SoC (System-on-chip), which means that it contains all of the primary processing components in one place, including the graphics processor and memory.  This cuts down drastically on motherboard (logic board) requirements; however, a disadvantage is that it also hampers any ability to upgrade these devices after-market.  The new CPU includes 8 cores: 4 being high-performance cores, and 4 being named high-efficiency cores.  The performance cores are meant to work with higher demanding apps, while the efficiency cores work with other tasks, like browsing the web.  The M1 CPU also contains 8 GPU cores, and 16-core Neural Engine for machine learning operations which helps with AI and speech recognition.
Although Apple's own software such as Final Cut Pro, iTunes, Motion, and others, stand to gain the most advantage from Apple's first party silicon chips, Apple has also announced a program they have developed to help other major software vendors attain the same power and efficiency as well.  Adobe is expected to release compatible versions of their suite of software soon, and Microsoft's software – like Outlook and Word applications – already work with the new Apple CPU based computers.
What the Benchmarks Show
When it comes to the benchmarks of these new devices and how they compare to other Mac computers with Intel based CPU's, the M1 was able to stand out quite well.  Appleinsider.com made a comparison in a Geekbench Benchmark test, and Cinebench test that showed how well the M1 performed compared to the Intel i7 and i9 CPU chipsets.  These benchmarks gave the M1 a score of 7395 on Geekbench's Multi-Core test which was just above the Core i9 in the 16-inch MacBook.  And the Cinebench Multi-Core test gave the M1 7691 points, which just barely outperformed the Mac mini i7 2018 model.
As it stands, these are promising results for a first-generation CPU from Apple, and we expect performance to only get better with subsequent releases. If you're planning on buying one of these first generation M1-based Mac computers, it's important to note that not all software will currently run on these chips, so you may not be able to use all of the software your used to with it just yet.
Natural Networks is a fully managed IT services provider, and we can help you decide what desktops or laptops will work best for your needs.  If you want to learn more about how managed IT Services can benefit you, feel free to  reach out to us today!