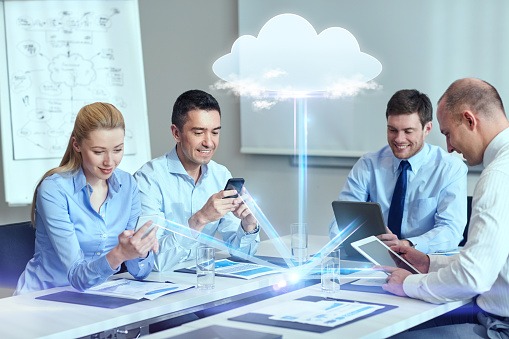 If you're a small or medium-sized business still using an old outdated phone system like a landline, then you are severely limiting the capabilities and cost efficiency that Voice over IP (VoIP) can provide.  A landline can only do so much, but VoIP technology can truly unleash your business' ability to communicate with your team members and with your clientele.  Best of all, a VoIP phone system's costs are competitive with standard landlines.
Natural Networks has been a VoIP provider for several years, and we have first-hand experience using and installing VoIP phone systems throughout San Diego County.  Deploying VoIP for your small business can not only save on costs, but it can also provide a ton of advantages that can be used for small and medium-sized businesses alike.
Top Benefits of Using a VoIP Phone System
Call Quality - VoIP phone services are always improving.  This specifically benefits call quality because the technology is more easily able to get updates through VoIP providers, like Natural Networks, over traditional landlines.  Today's VoIP service has even surpassed landline phones in aspects of call quality.
Multiple Functions - VoIP is so much more than just a phone system for making and receiving calls.  Today's VoIP systems incorporate communication services, such as instant messaging, presence information, teleconferencing, receiving voicemails, converting faxes to email, and even video conferencing. Business owners can take advantage of the various services VoIP can provide to better route customers to those they need to speak with.  Video conferencing can allow you to keep in touch with employees to discuss important matters, no matter where they are in the world.  Having a VoIP phone system means you can stay in touch with your employees without the need of having them physically present in the office.
Security - Compared to analog phone connections, VoIP is far more secure.  Utilizing strong encryption methods, VoIP makes your phone calls and data much more secure.  With Natural Networks managing your phone system, you can be rest assured skilled technicians are able to quickly resolve problems before you notice them.
Portability - VoIP technology works digitally over the Internet, as opposed to an archaic landline.  This means that anywhere you are able to connect to the Internet, you are able to bring your phone too.  VoIP allows you to make and receive calls from multiple devices; including your smartphone, allowing customers to contact you, or colleagues, anywhere in the world.
Automated Services - You can utilize VoIP to automatically pre-program answers to frequently asked questions by your customers.  Examples may include holiday opening hours, regular opening hours, and other announcements that can be programmed in, improving customers' optimal service at any time.
Call Recording Services - Calls can be recorded, or listed into, by you or management, allowing you and your colleagues to review important calls, and ensuring that important messages aren't missed.  You can even forward voicemails directly to your email.  In addition, you can also review call logs to determine what time of the day customers are calling most and how long each call lasts.
Increased Productivity - VoIP increases productivity by eliminating issues like "phone tag." With VoIP, phone numbers can be programmed to ring on multiple devices before proceeding to voicemail.  This reduces the likelihood of employees and customers constantly missing each other's calls.
Cost-Effectiveness - Operating costs for VoIP are significantly lower than traditional phone companies.  VoIP cuts down on domestic and international call costs.  A VoIP number isn't connected to a physical landline but still appears to the person you're calling or the person calling you to be so.  You no longer have to maintain separate networks for data and phones.  Additionally, VoIP handsets are less expensive than traditional telephones as well.
So, if you're still stuck with a traditional landline, it's time to upgrade and get the benefits that VoIP can offer you.  Click here to learn more about how Natural Networks VoIP services can benefit your company, and if you have any questions, contact us today!