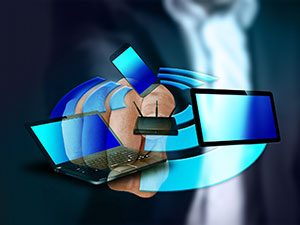 In today's world, almost every device that can be connected to the internet can do so by using wireless technology.  Most computers, tablets, phones, and IoT (Internet of Things) devices can be connected to a wireless network.
Whether you're providing a wireless option for guests at your office, or your office staff rely on a reliable Wi-Fi network in the office for their own devices, working with a slow and unstable wireless signal can be frustrating.  A slow Wi-Fi connection can be a result of several factors, but there are some easy-to-follow steps that can help you improve your Wi-Fi speeds right away.
Tips for Improving Your Wireless Connectivity
If you or your staff notice the Wi-Fi isn't as fast as it typically should be, the first thing you may want to check is how fast the overall internet connection to your office is.  Sometimes, the Wi-Fi being slow may be a symptom of a larger problem that may involve your internet as a whole.
Running a speed test from a hardwired computer should reveal if the overall speeds are slow and help isolate if the Wi-Fi is the issue or if it is your entire connection.  If the speeds over a directly connected device are what you expect to see, try running a speed test from a wireless device next to the source of your Wi-Fi – either the wireless access point or the router.
If the speeds near the Wi-Fi source are good but worsen when further away, then you may be dealing with a Wi-Fi coverage problem or interference.  If the speeds are slow even when standing directly next to the wireless source, then there may be a problem with the hardware, or there may be another device, or devices, that could be causing your speeds to be slow.
It is possible that another device, or multiple devices, could be eating up the bandwidth over the wireless signal.  There are certain websites and programs which are notorious for taking a large percentage of bandwidth, which can also result in slower speeds over the network they are running on.  Certain websites and programs such as Twitch, Spotify, or YouTube are well known bandwidth hogs.
You can work with a Managed Service Provider (MSP), like Natural Networks, who manages your network gear to ensure that certain sites are bandwidth limited or blocked all-together.
The wireless frequency that you're using may also cause an issue with speeds.  The two wireless frequencies that are used in Wi-Fi technology are the 2.4 GHz frequency and 5 GHz frequency.  Knowing when and which frequency to use can help save you a headache when dealing with slow wireless speeds.  The 2.4 GHz frequency is generally considered to be slower than the 5 GHz but offers a wider range in which to connect to. While the 5 GHz channel is expected to perform at a faster speed, it will only do so when you are very close to the equipment.
Calling in the Experts
As with most technology, wireless tech is constantly evolving and improving.  If your wireless speeds in your office are still not what you want them to be, it may be a good idea to call in an expert managed IT services team such as Natural Networks.  We can investigate and analyze your network equipment and make a recommendation on improvements to your current hardware and setup.
Natural Networks is a fully managed IT services provider, and our trained personnel can help you make sound decisions on improving your network layout and equipment so you can get the most out of your technology.  If you are interested in learning more about how we can help with your IT, give us a call today!