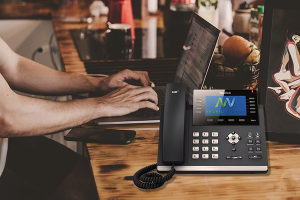 Voice over Internet Protocol, or VoIP, is a technology that is capable of providing voice services over your broadband internet connection.  VoIP is able to provide your office with many great benefits that can enable better work flow, provide faster response times, and higher quality calls in addition to other great advantages.  With a VoIP provider like Natural Networks, you can take your business' communications to the next level.
Join Your Phone with Your Computer
With VoIP, your phone can work completely independently of a physical handset; you can use software on your computer to make calls, listen to voicemails, and even chat through instant messaging with other teammates.  You can also bring your office phone number with you using an app on your cell phone.
Not only are you no longer tethered to your physical phone at the office, but with VoIP, you can also easily make all the same changes directly on the computer phone application, like call forwarding, setting Do Not Disturb, or creating audio and video conferences, and much more.
Integrate Your Calls with Multiple CRM Apps
Utilizing VoIP phone systems can help you better integrate your phones with your customer relationship management applications (aka CRMs).  This enables your staff to launch calls directly from your CRM saving you time by automatically popping up customer records.  Automatic call journaling removes tedious manual call entries.  You can also build custom call flows to automate questions and workflows.  VoIP phone services provided through Natural Networks can help your staff acknowledge who's calling, match customer records in your CRM apps, and log calls to customers so you can see history.
Other features allow managers to listen in on calls, barge into calls when necessary, record calls for training purposes, and help improve future workflow.  Some of the CRM applications that you can integrate with your VoIP phones include Salesforce, Microsoft Dynamics, Microsoft Outlook, and Zendesk, to name a few.
Audio and Video Conferencing Made Simple
Using VoIP can help simplify office video and audio conferencing through the application provided to you by your VoIP provider.  Easily schedule audio and video conferences through your calendar integrated with your VoIP software so that you can automate the setup and connection to conferences.  Your employees can also take their conferences anywhere they go so long as they are online through the VoIP app on their phone, tablet, or laptop. Additionally, it is easy to setup quick conferences on the spot using the conferencing feature in your VoIP application.
Transitioning your phone system may seem daunting, but when working with a professional VoIP provider, like Natural Networks, it's simple and seamless.  In most cases, you will also be able retain all of your phone numbers from your old provider.  If you would like to learn more about how VoIP can help transition your office to a better phone system, give us a call today!