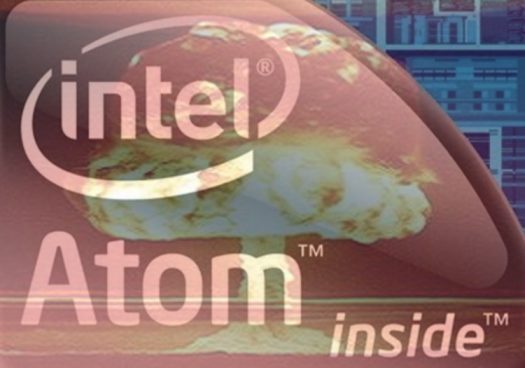 It was reported by The Register that Intel's Atom processor has a serious flaw, resulting in a plethora of device failures which manufacturers only starting to place recalls for.  As a managed IT services provided, Natural Networks works to keep up to date on potential hardware failures like these.
The CPU chip manufacturer Intel is one of the industry leaders in designing, and developing the CPU (Central Processing Unit) of many computers, tablets, phones, and other devices. Intel is so gargantuan in the chip manufacturing business, that the International Data Corporation (IDC) found Intel's largest market share held in both desktop PC microprocessors, as well as mobile microprocessors, was 79.3% in Q1 2011, and was 84.4% in Q2 2011.
There are a variety of different types of processor's that Intel builds for a variety of devices. Enter the "Net Book", a small form factor laptop which put mobility and clock speed at the top of its priorities for users. During the 2010 and 2011 years, Net Books were introduced as a new light-weight laptop that you could take with you, rather than lugging around other laptop's which were quite heavy and bulky at the time. The smaller, lighter Net Book was made possible by a newly designed processor dubbed the Intel 'Atom'. The Atom CPU was physically much smaller, allowing for the Net Books micro-designed form factor.
Although the Net Books mobility was a welcome change, and seemed to be an indication that laptops were finally getting smaller and lighter, their limited functionality and disk space made them less practical than anticipated, causing sales to dissipate. Though Net Books lost much of their market share overtime, Intel was able to save its design for their Atom CPU line for other devices like Switches, Routers, and a swath of 'Smart' devices found around the home.
As The Register reports, a particular type of Intel's Atom C2000 processor family has a fault which essentially bricks the devices using it. Cisco issued and advisory warning that several of its routing, and optical networking, security and switch products sold prior to November 16, 2016 contain the faulty processor, and are likely to fail after 18 months.
Intel indicated in January of 2017 that the Atom C2000 family of processors had a clock flaw, which it describes that the C2000 Low Pin Count bus clock outputs commands may stop functioning. An Intel spokesperson in an email to The Register, reported that this was caused by "a degradation of a circuit element under high use conditions at a rate higher than Intel's quality goals after multiple years". If the LPC clock(s) stop functioning, the system essentially fails altogether.
This appears to mean that Intel's C2000 family of Atom processors was never intended to be used in such high-demand devices that manufacturers like Cisco put it through. Intel has so far declined to comment further regarding how many flawed CPU's have shipped, and what it will cost to fix the problem. Until further inquiry can be attained from Intel, it will be difficult to ascertain just how many people could be effected by this. It is believed that Cisco ASA 55xx products which are known to use Intel Atom processors, along with many other vendors including: NetGate, SuperMicro, ZNTX Networks, NEC, Newisys, and Netgear may have effected devices. The chipset was aimed at networking devices, storage systems, and microserver workloads. This problem is also known to effect users with Synology DS1815+ Network Attached Storage devices.
Intel has announced they will be applying a fix to future CPU's for the C2000 Atom family. Problems like these can affect companies large and small, and it's easy to see why we need to keep informed and up-to-date when it comes to our technology products. You can stay informed by signing up for our monthly newsletter, or give us a call or email today.