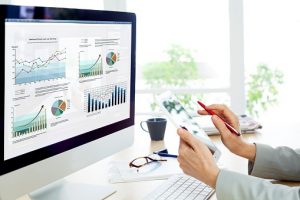 Businesses are starting to reopen across the country, and it's important that you and your team are prepared for the new levels of traffic to come as demands increase. Ensuring your devices are protected and optimized for best performance will make sure that you can get back to work as safely and efficiently as possible.
Protecting Your Team and Devices
As businesses start to reopen, malware, cyber criminals, and other malicious actors are also ramping up their efforts.  Making sure your computers are protected with an up-to-date anti‑virus program will help to protect your technology from getting infected.  If you have employees returning to the office soon, it's a good idea to check their machines to make sure they have the most current updates to their systems along with an updated anti-virus software installed.
Optimizing computer performance can ensure an easy transition for teams coming back to the office as well.  Cleaning system and internet cache files, removing unnecessary programs, and sweeping your devices for infections – like spyware or malware – can ensure that returning team members have an easy transition and are able to get back to work faster.  Natural Networks is a managed IT Services provider that will routinely check your systems for out‑of‑date software and infections automatically.  You can schedule a Natural Networks expert to ensure your systems are optimized and ready for work on day one.
Recognizing New Threats in a Reopened Business
Cyber threats have become a normal evil in the world of technology and if you haven't been hit by it yet, there's a good chance that you will. Thus, it is important to train staff on the many varieties of angles that hackers will take in order to gain access to you, your team, and your customers' valuable data and steal it. Social engineering, malware, phishing emails, and other potential scams that look to exploit your team and sell your information on the dark web are just some examples.  Cyber criminals have also been known to use crisis points, like COVID-19, to try and socially engineer or manipulate unsuspecting businesses into giving out data that should be protected.  Make sure your employees are familiar with phishing emails and are educated on how to spot malicious actors who may be trying to use the crisis as a way to get information without going through proper protocols.  Natural Networks can assist your staff to spot these threats and can help you defeat them.
Whether your business is ready to reopen immediately, or your taking things slow, it's always a good idea to ensure your office IT and technology is ready to meet the demands of your staff and clients.  If you want to make sure your office IT is ready on day one of your reopen, contact us today.