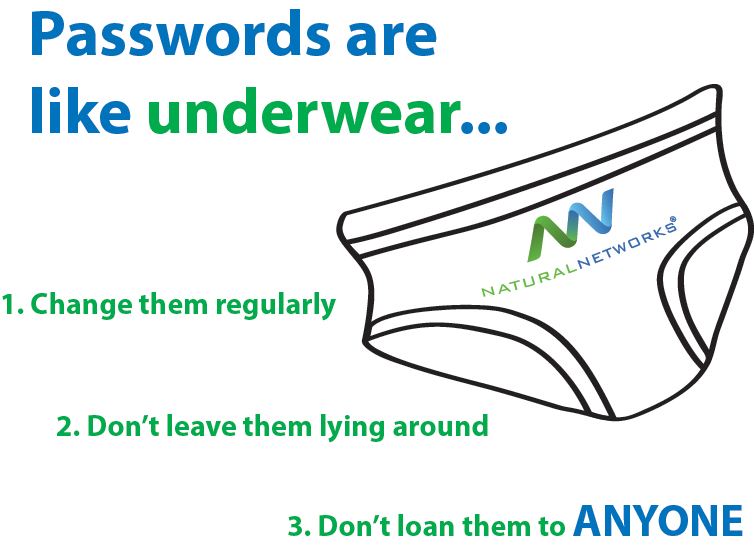 Keeping passwords safe and secure has become a task in itself in today's data driven world.  Not only have password requirements for websites and services started requiring more complex variations, but they often need to be updated on a regular basis as well. It is ideal to manage this before you realize you have a variety of different passwords for different sites, and it becomes impossible to keep track of them all.  As a managed IT company in San Diego, Natural Networks understands the frustration when it comes to dealing with passwords.  That's why we advocate to our clients the essential requirements to storing and using their passwords.
The Basics of Password Management
There's an easy way to remember what you need to do in order to keep your passwords up to date, safe, and secure.  Just remember that your passwords are like underwear:
Change them regularly
Don't leave them lying around
Don't loan them to anyone
It seems that nowadays, everything you do requires a password, but it doesn't have to be difficult changing your passwords for the various sites and services you use. Keeping your passwords updated by changing it regularly increases the complexity of the password and makes it more difficult for would-be hackers to access your most critical information.  As a customer, sites and services are taking your security much more seriously and them asking you to change your passwords regularly is just one way of doing that.
If you find it difficult to keep your passwords up-to-date, we recommend trying a variety of different password tools, like LastPass, KeePass, or RoboForm.  These password utilities are great for keeping your passwords stored and protected while, at the same time, giving you tools, like password generators, so you don't have to spend time thinking of new passwords to use.
Make sure to never write down your password either.  Once a password has left the digital world, and entered our realm it should be considered compromised.  Our technicians often go on-site to troubleshoot problems, and they often find passwords to servers and other data taped to the screen, or on a sticky note out in the open. You should never, under any circumstances, write down a password.
Additionally, never share passwords with anyone, especially passwords that are unique to you.  You can never fully trust that someone you share a password with will keep it protected.  They may have the best possible intentions but can still be susceptible to hackers, phishing attacks, and the like.  Loaning a password is simply not a safe thing to do.  Each user who needs access to data should have their own account with their own unique permissions set.  That is the only way to make sure your passwords aren't compromised.
Follow the above principles of password management and you will find it easier than ever to work with passwords you use everyday.  If you have questions or want to know more about Managed IT Services in San Diego, contact us today!