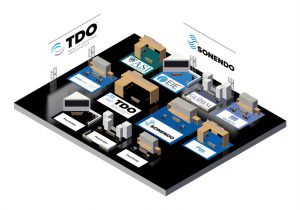 Despite the massive social disruptions that have come about in this crazy year of the corona virus pandemic, natural disasters, and political battles, TDO® Software still kicked off their annual conference, but in the virtual realm!
The TDO interactive virtual experience ran from October 8th – 10th and for the second year, our CTO, Anthony Polselli, spoke live on the new platform to endodontists around the world about business technology. His presentation received praise from the U.S. and Canada all the way to New Zealand as being extremely informative and insightful.
Today, in 2020, with the mandated social distancing requirements and the need for working remotely, more security holes are being created making it easier for hackers to steal and compromise data, attacking and financially ruining companies of all sizes with ransomware and phishing scams. Anthony's topic was on cybersecurity and technology and what was crucial for endodontists to know in order to protect their practice in the cyber world. Implementing the right security measures to ensure that a patient's data is safe and secure is essential as technology and hackers continue to rapidly advance.
He also discussed cybersecurity, ransomware, phishing, and best practices to protect and safeguard vital information in their businesses. It is important to understand that everyone must guard against cyber threats; however, the medical world has to be even more cautious considering the information that they retain in their databases, like patient medical records, social security numbers, date of birth, and a slew of other critical information that, if accessible in the wrong hands, could ruin lives.
The video is available on the Natural Networks You Tube channel at:
https://youtu.be/4PbRTInVFfY
Cyber-attacks will continue to evolve; as people continue to figure out what cyber criminals are doing, they will continue to step it up, keeping us on our toes.  If you would like to learn about ways to educate you and your team on cyber-crime, give us a call today.