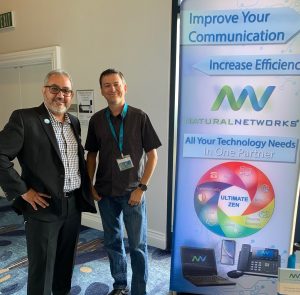 This past month, Natural Networks had the pleasure of participating as a vendor at the TDO Conference at the Manchester Grand Hyatt in beautiful downtown San Diego on September 12th - 14th. We are the only approved CloudPBX integrated service with TDO software and had the opportunity to showcase our services at our first official trade booth show with TDO!
Anthony, our fearless leader, was also given the unique privilege to talk to a crowd of around sixty at the conference called Office Essentials: What You Need to Know About IT, VoIP, and Cybersecurity. The objective was to inform doctors that specialize in endodontics and their staff about the serious threat that cyber-criminals are posing on technology today and how best to proactively protect their offices from them. He also explained what a good IT and VoIP setup looks like for their practices as well as what a Managed Service Provider, or MSP, together with TDO can do for them to maximize operatory time and to keep their practices running smoothly.
TDO™ – The Digital Office for Endodontists – is presently the most widely used endodontic software in the world. It is a practice management software that simplifies and unifies all functions within an endodontic practice. Founder, Dr. Gary B. Carr, wanted to develop a truly integrated digital office that could also collect data which would allow for a scientific analysis of endodontic outcomes as well as provide standardized evidence-based endodontic protocols.
Together with TDO, Natural Networks has developed a phone solution that integrates with TDO software. The benefits are TDO practices are able to open a patient record automatically when a call comes in without detouring from their current activity on the screen. They also have the ability to speed dial patients from their computer within the TDO platform as well as dial any phone number on their computer with just a press of a key. Natural Networks can also set up call recordings and program their system so that patients can dial other extensions and emergency lines. If there is ever a power outage at the practice, Natural Networks' Cloud will allow patients to still reach voicemail or be forwarded to a doctor's cell phone, for instance, so the patient can be taken care of. Our CloudPBX solution also allows for seamless phone operations for all office locations.
In addition, Natural Networks provides a turn-key white glove solution to our clients which includes training, configuration changes, and staying up-to-date in the Cloud. Our phone services provide all the same features of an on-premises phone system including Auto Attendant, voicemail to email, and Call Forwarding in addition to the ability to using your smartphone as your office phone by simply downloading our app.
Our emphasis in this tradeshow was also to let folks know about our Managed IT services as well. As a busy business, you or your staff do not want to have to make time to call a handful of vendors to resolve issues. Natural Networks provides peace of mind - what we like to call our "Ultimate Zen" package - VoIP, Managed IT, disaster recovery, cloud, internet, cyber-security, and even cabling, which is a rarity for a Managed Service Provider. If you are troubleshooting existing cabling problems or opening a new office, we can take care of your CAT-6 and fiber cabling needs. By being a licensed low voltage cabling contractor, it allows us to have the capability to, not only spare you one extra vendor to deal with, but also to have the job done right from the inside out. If we are handling it all, you have one hand to shake, one call to make, and, if you prefer, one throat to choke, for all of your technology needs.
So, if you're still stuck with a traditional landline and/or are looking for a reliable and efficient Managed Service Provider, then click here to learn more about how Natural Networks' VoIP services and Managed IT can benefit your company. Our services are available nationwide. If you have any questions, contact us today!