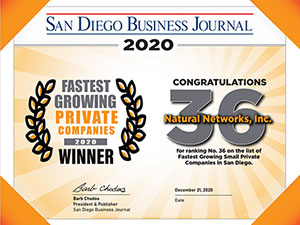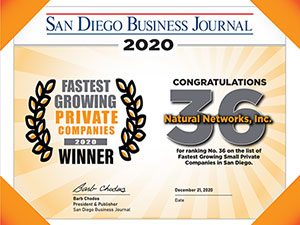 Natural Networks is honored to have been selected as one of San Diego's Fastest Growing Companies in the San Diego Business Journal! We had the honor of being featured on page 15 of the December 21st issue of the Journal.
Natural Networks, Inc. has been in business for over 25 years, servicing the United States and specializing in medical, insurance and professional industries. With over 200 years of combined experience, we take care of all of your IT needs including disaster recovery, cybersecurity, internet, cloud and voice solutions. We are also the only managed service provider in Southern California that offers managed IT, voice and is a licensed low-voltage contractor - all our work is done in-house as we do not outsource - allowing us to provide quality in technology and reliable business systems from the inside out.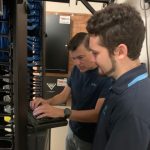 Natural Networks has been an A+ accredited business with the Better Business Bureau since 2012 and has received numerous awards including the 2020 Small Business Excellence Award, 2020 Nominee for the Top Tech Exec Awards with the San Diego Business Journal and Cox Communications, 2019 Largest Cybersecurity Organizations with the San Diego Business Journal, as well as winner of the 2019 Better Business Bureau's Torch Awards for Ethics.
On behalf of Anthony Polselli, our founder and CEO, we want to thank all our awesome clients for helping us achieve this recognition in the San Diego community. We are very pleased to be recipients of this San Diego Business Journal Award!
Here's to further growth in 2021!!