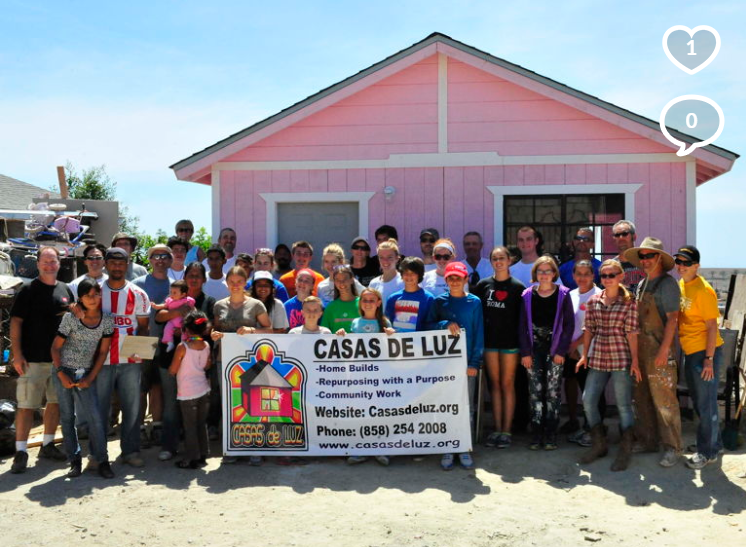 In partnership with La Jolla YMCA Trailblazers and Casas de Luz, Natural Networks is fundraising for home builds in Tijuana for the weekend of May 4-5, 2019!!!
Casas de Luz
Started in 2005 by Kathy Faller, Casas de Luz is similar to other home building charities you may have heard of such as Homes for Hope or Habitat for Humanity, but at a much more personal level. Participants and Families work side by side, over two days, with hand tools and plenty of time to appreciate the fullness of the experience.
In addition, the Casas de Luz program provides ongoing support for these families in the form of education for the children and additional donations of food, clothing, and special needs items, such as wheelchairs. The program also includes many other initiatives, such as recycling of materials (windows, appliances, doors); donations of used items that can be put to good use rather than filling up our land fills; and greening of the colonias with fruit tree cuttings and other plants (tomatoes).
Building a Home
A Casas de Luz house is built in one weekend and is typically a 16 ft by 20 ft home on a poured concrete foundation.  When completed, it will have three rooms, finished walls, some basic wiring and a shingled roof.
Participants arrive at the build site early on Saturday morning and find all the building materials they will need stacked neatly beside a clean and ready concrete slab. They then get right to work under the supervision of skilled builders from both sides of the border.
On the first day of construction, the frame goes up, windows and wood siding are installed, and the roof is started.  By Sunday afternoon, caulking and painting are finished, the roof is papered and shingled, and the house is decorated and furnished, ready to move in!
As important as providing a home for a needy family is, these stable homes also become anchors in the community and give the children that live in them greater opportunities for education, thereby helping to break the poverty cycle.
Please help make it happen again with your generous donation!
https://www.mightycause.com/story/Trailblazerhomebuild2019
Questions? Please email didge@masserfrye.com