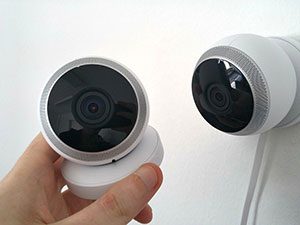 There are many benefits to securing your office with a CCTV security camera system.  Installing security cameras can help you keep an eye on the office while you're away, deter theft or burglary, and help facilitate a safe working environment.
There are several brands today that offer security camera and DVR/NVR solutions. Finding the right one for your office can depend on many factors.  Determining what your needs are for your security cameras and the physical structure of the space you're trying to secure can help you determine what the best solution is going to be for your office.
Finding the Best Equipment for Your Environment
Nowadays, there are several offerings from different providers of CCTV systems.  Most security camera systems today use ethernet cables to connect cameras over a network cable which link back to the NVR (Network Video Recorder).  For a time, DVRs (Digital Video Recorders) were the default choice using a series of two cables: a BNC wire and a power cable.
NVRs have eliminated the need to run a separate power cable and have streamlined the process of connecting your cameras to the central NVR as well as connecting it to the internet.  There are also solutions that involve wireless security cameras that connect to the cloud only using the existing wireless signal in the office.
One caveat is that wireless cameras often still need a separate power cable in order to run or batteries to be changed periodically. Additionally, wireless cameras also use up an inexorable amount of bandwidth from your internet provider and have a monthly charge.  Wireless camera solutions are designed, with their associated costs, for residential needs in mind. Because of these factors, we highly recommend that you avoid a wireless camera solution.
What Benefits Does a Network-Based Security Solution Offer?
There are several advantages that your NVR and cameras can provide for your office.  Many CCTV brands offer easy to use apps that can be installed on your phone or tablet.  These applications can provide useful functionality like allowing remote viewing if you desired.
You don't need an app to view your cameras remotely either.  Many NVRs offer a unique feature called DDNS.  DDNS allows you to remotely view your NVR from anywhere on the internet with the NVR brand hosting the connection.  When you setup DDNS, you will enter some basic information provided to you from the NVR brand and then be provided a website URL that will take you to your camera system.
With the right IT services team, you can access your cameras remotely without the need for DDNS by simply forwarding the ports on your router/firewall.  It's recommended that this be done by an experienced IT professional though as making changes to the firewall can result in unforeseen problems.
Working with a managed IT services provider also simplifies the process of installing and setting up your new CCTV security system.  The right managed IT services provider can help you determine the best CCTV setup for your office, installation of the cameras and wiring, and assisting with getting you remote access to your cameras securely.
Many companies across the US are taking advantage of using security cameras to protect their offices.  Security cameras can, not only provide a safe working environment, but also provide many other advantages as well.  If you're interested in learning more about how a CCTV system can help your business, give us a call today!