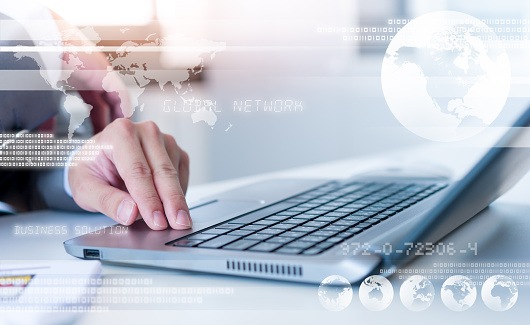 Microsoft Windows and Apple's OSX make up the vast majority of the workstation market place.  Stat Counter's Global Statistics shows Windows making up over 80% of the overall market share, and OSX coming in second with just over 12% of the market share for desktops and laptops.  Although Windows has been losing some market share to Apple and Linux over the last few years, Windows and OS X are firmly the leaders in terms of workstation productivity.
There have been many changes to both Windows and OS X with their last few iterations, which increase security and allow managed IT companies to better support them.  We took a look at what changes have come to both the new Windows 10, and OS Sierra and High Sierra releases.  Windows 10 has introduced new security and manageability features which utilize Microsoft Azure in their 'Creators Update', and Apple has also tied in new Security and Cloud features with OS X Sierra.
Windows Security Features
Microsoft has introduced a number of unique security features to Windows over the years, including Windows Defender, Windows Hello,  Microsoft Identity Protection, and Windows 10 brings together all of these under one Windows 10.  These features make Windows 10 much more functional in a managed IT environment.
Windows Hello is Microsoft's way of trying to make passwords more secure.  Instead of using a standard password using a combination characters, Windows Hello can use your face to login, your fingerprint, or a unique PIN.  With multi-factor authentication, and Microsoft Azure as well, your login for your computer and email can have 2-factor authentication activated for even greater security.
Windows Defender has gone through some major reiterations since it was introduced in Windows 8.  This Robust Anti-Virus is built in with Windows 10 now, and features inbox security, threat management, and credential guard for single-sign on instances.  Microsoft also manages the threat database adding over 300'000 instances to their virus database daily.
Windows Azure is Microsoft's cloud solution which has added a number of manageability and security features in Windows 10, and more recently in the Windows 10 creators update.  Microsoft has tied in their office products in Office 365 with the Azure cloud.  This allows better administration for devices and licenses across larger organizations, and combines all of the above mentioned security features.
Mac OSX Sierra and High Sierra
Apple released their latest OS X dubbed High Sierra in 2017 which has implemented some very nifty security and manageability features.  Apple has updated Gatekeeper, added new secure sign-on features, and overhauled their entire file system to be more secure.
Apple has also utilized iCloud to add more security features, and allows managing your device and content under one place much more manageable, and secure.  Apple has taken iCloud and tied it much closer with high Sierra, allowing users to access documents, email, pictures, music, and backup's which can be managed from your iCloud account.  The following added OS features we felt really brings Apple into the next level of IT Security and Managed IT infrastructure.
A New Apple File System was introduced with High Sierra which is now considered Apple's default file system.  The file system which has already been used under iOS, is designed to make better use of Flash technology used by Solid State Drives.  The security is better utilized from the file system's built-in encryption, and features more crash-safe protection and backup capabilities.
Gatekeeper is updated and stronger than ever on OS X High Sierra.  Protecting against malicious applications, and files, Gatekeeper's database  is constantly updated by Apple for new virus and malware definitions.  Gatekeeper offers even more control in High Sierra, allowing the user to deny applications from opening automatically, or by simply warning the user.
Securely unlock your Mac with your Apple Watch.  With iCloud enabled you can unlock your Mac running High Sierra with your Apple Watch.  You can enable to this by going to Settings > General > Security and Privacy, and then checking to allow your device to be unlocked with your Apple Watch synced with iCloud.  This also enforces a 2-factor authentication measure to make your account even more secure.
Many of these new IT security innovations are a welcome sight in a technology driven world where new viruses, malware and hackers are constantly trying to break things and steal your information.  As a managed IT provider we are always excited to see new methods for managing and securing new systems.