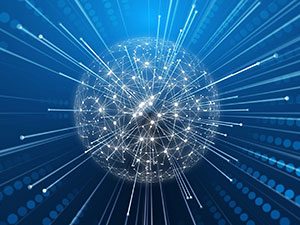 For many businesses today the internet is their lifeline.  When the internet goes down it means that emails stop working, access to important data is unobtainable, websites related to our work are inaccessible, and more.  It's not a far stretch to say that when the internet is down at our business, our ability to work comes to a stop.
When the internet is down, it can be a frustrating experience.  However, there are a few key steps you can take to help identify the problem to get you back online.
Managed IT Services providers, like Natural Networks, handles all facets of internet issues. Below are a few simple steps we recommend anybody having internet issues take to help get them back online.
First Steps to Take When You Can't Connect
When your internet isn't connected to your computer, the first thing to do is determine whether this is only affecting your computer or all the computers in your network.  Can others connect, or is it just you?
Try power cycling the modem and firewall if the entire office is unable to connect.  To power cycle your modem, simply unplug the power cable from the back, then wait roughly two minutes before plugging it back into the power. Finally, check if the lights on the modem show anything different.
Your modem is the device responsible for bringing wider internet into your office allowing your workstations to connect to the outside world. You can also check the status lights on your modem for any indications of trouble.
The most common lights on modems include US (Up-Stream), DS (Down-Stream), Online, Power, and Activity.  The Power light should always be on with a solid light.  The US and DS lights indicate the traffic signal for data streaming into and out of your office, if one is not on then it implies there is a problem with the modem.  The Activity light may flash rapidly signifying data flow through the modem.  If any of these lights are not lit up, you may want to contact your ISP to troubleshoot issues.
Checking Equipment Status and Lights
If you're on a Windows computer, look for the network icon, typically in the bottom right corner of your computer screen.  See if the symbol is either in the shape of a globe, or if there is a warning symbol over the network icon.  A globe symbol indicates that your signal is available to the net, but you don't have an active connection.  This may mean there's a network configuration issue with your computer or possibly the router or firewall.
If you work in an environment with multiple workstations networked together, you may have one or several network switches, a router or firewall, and a modem.  These devices work together to build the local network between your devices to connect them to the internet.  If your workstation connects to a network switch, check to ensure the port your computer connects to has a light over the switch.  If it doesn't, that could indicate a bad port, if the network switch has no lights, this could signify that the entire device could be bad.
Further Steps to Try
If you're still having trouble accessing the internet from your computer, and it doesn't appear to be the modem, and other devices appear to be connected to the internet, there are still some quick fixes to try.
Try pinging an outside network.  Open a command prompt window by going to the start menu and typing in 'cmd' then press enter when you see the Command Prompt application.  In the command prompt window, type in the word 'ping' followed by a web address like google.com and press enter.  If you don't see a Reply from response, this could indicate a DNS level issue. If pinging google.com did prompt a Reply from, you can also ping an IP address like 8.8.8.8 or 4.2.2.2 (which are both common web addresses for Google and Level 3).  Additionally, you can ping your router's local network address to see if you receive a Reply from.  You can find your router's IP address by typing the command ipconfig, then look for the default gateway which shows your corresponding IP address.  If you can't ping the router, then this may reveal a connection problem to your local network or router.
Disable and re-enable your computer's network adapter.  You can reinitialize your connection to the network by disabling and re-enabling your computer's ethernet adapter.  Start by right clicking the network icon from the system tray, typically found at the bottom right corner of your computer screen.  Next, click Network & Internet settings and select Network and Sharing Center from the window that opens.  Then find the option to Change adapter settings on the left-hand pane of the Network and Sharing Center window.  Lasty, left click the Ethernet icon, and choose the Disable this network device option towards the top.  After the connection is disabled, left click the icon again and choose Enable to re-enable the Ethernet adapter.
If all else fails, call the experts!  Of course, if you have a managed IT services provider like Natural Networks, they can identify and resolve internet connectivity problems before you even notice them.  In cases where your computer isn't connecting to the internet, our IT experts can help resolve the problem for you.  If you don't have a managed IT services provider and are interested in how Natural Networks can help your office always stay online, then give us a call today!