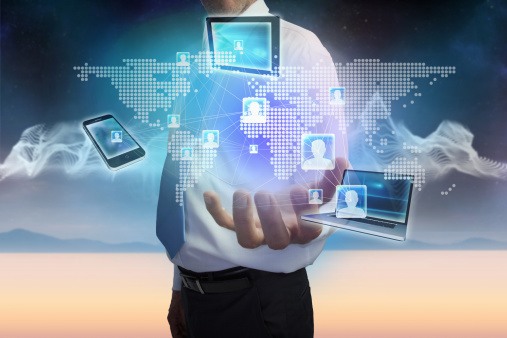 Cloud and software technologies that implement cloud usage have taken off and enabled small businesses owners to use applications they otherwise may not have had access to in the past.  Through the use of Software as a Service, or SaaS, companies can rent software and stop using it as their needs grow and evolve.
Cloud technologies enable us to grow and scale back applications as we need them.  Hundreds of software giants like Microsoft and Adobe now offer their applications through the SaaS model.  This model benefits small and medium-sized businesses alike who prefer to purchase licenses for the time they need them.
Cloud computing through a hosted network is yet another way that SaaS can benefit your business.  By using a virtualized environment, you eliminate many hardware and software needs that may go under-utilized if purchased outright yourself.  Through a hosted network, your team can quickly and easily connect to a computer hosted by a company, like Natural Networks, who takes care of the software, updates, and security needs for your organization.
With SaaS, you can easily increase or decrease the amount of virtual connections you need without having to worry about purchasing new software or having unused licenses.  This means you have less onsite IT infrastructure to worry about.  You don't need to buy servers to maintain and manage your data and applications.  Everything is taken care of by the SaaS provider, which saves time and reduces costs.
Many other advantages to SaaS include data storage, personalized computing, better sharing and collaboration, as well as on-demand scaling of your systems.  When you use a SaaS service or hosted network, you eliminate the need to manage each part of your software such as installation, licensing, training, and hardware needs, like servers.  All of this is taken care of for you by your SaaS provider.  This reduces your IT overhead, and simplifies your application needs, which, in turn, improves the productivity and reliability of your workforce.
Security infrastructure is another advantage to using SaaS technologies.  Because your IT infrastructure is hosted, the security needs are maintained by the SaaS provider.  Your cloud-based software, computers, and data is all maintained and secured in facilities that are specifically designed to stay online 24-hours a day and maintain the highest standards of software security and anti-virus.  This means less worry for end-users who don't want to buy expensive anti-virus software.
Natural Networks has been a SaaS provider for many years, and we can help you understand and determine if SaaS is the right solution for your business.  If you're interested in learning more about how SaaS can benefit your company, give us a call today!