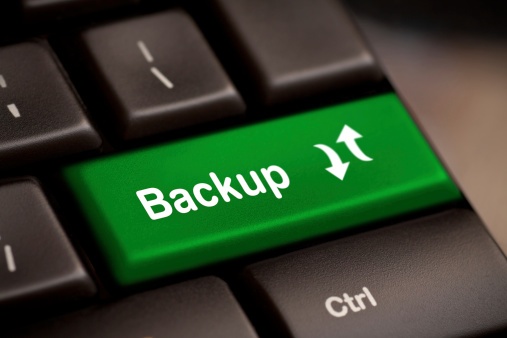 Whether you have one computer for doing simple tasks, or you're a business owner with hundreds of workstations at your office, it's important to know that your data is safe.  The most fundamental step you can take to ensure your data's not at risk is to back it up.  There are several backup solutions available.
Local Backup vs Cloud Backup
When choosing a reliable backup solution for your home or business computers you will need to decide if you need to keep a copy of your data offsite.  A local backup solution is one that keeps all of your data locally on site.  The benefits of this is that you know where your backup is.  You don't need any special passwords to access your information either.  This method of backup tends to be easier to manage as well.  A local backup can be as simple as attaching an external hard drive to your computer and running your favorite backup software.
A Cloud-based backup is more robust and is often just as easy to set up and recover files from as a local backup system.  Cloud-based backups keep your data in the cloud.  The cloud, in this case, is a series of servers that live offsite, in a safe and secure data center.  The benefit here is that, in the case of break-in or disaster, your data is still safely backed up.  Moreover, you can access your data from anywhere you are able to access the internet.
Backup Software
There are several varieties of back-up software you can use to back up your computers.  Windows and Mac OS X even include a built-in proprietary back-up system if you wish to use a local back-up solution with an external hard drive.
Time Machine is the built-in Mac OS X back-up software for Apple.  This comes with every Apple computer and is very simple to set up.  Simply attach an external hard drive to your Mac, and your computer will ask you if you want to use it as a Time Machine drive.  If you select yes, it will begin backing up your computer to the drive incrementally.
Windows Backup is the Windows-based built-in back-up solution.  Each Windows-based computer since Windows 7 has come with a built-in back-up solution that works similarly to the Macintosh-based Time Machine software.  After attaching an external hard drive to your Windows 10-based computer, you can launch Windows Backup and select the external hard drive to start backing up to.
Crashplan  is one of many 3rd party backup solutions that can also backup your data to their cloud.  Crashplan offers a free version that you can use to backup to an external hard drive, or, for a monthly fee, you can backup your data to an offsite cloud.
Carbonite is another popular backup software that offers a cloud based backup solution.  It runs in the background of your PC or Mac making incremental backups to their cloud.
Acronis sets the standard for cyber protection and hybrid cloud storage through its innovative backup, anti-ransomware, disaster recovery, storage, and enterprise file sync and share solutions. Acronis Backup keeps your business operations running by ensuring your data is always available.
SolarWinds Backup is a modern, cloud-first data protection service for servers, workstations, critical business documents, and Office 365 Exchange services all managed from a centralized web-based dashboard. SolarWinds was created for the cloud.
Natural Networks offers its own cloud-based backup solution as well.  You can learn more about our Cloud-based solutions, and ask any questions you may have about backing up your computer(s) for your home or business when you contact us.