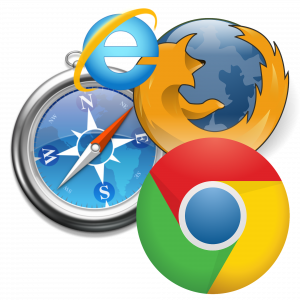 The browsers we use are our portals to the internet.  Whether your using Mozilla Firefox, Google Chrome, or Microsoft's Edge browser, the experience you get can determine how productive your able to be while browsing the web.  There are several great add-on's that you can get to increase your productivity while browsing the web, and can even help protect you while online.
Getting add-on's for your browser is easy, and can lead to a better, safer browsing experience.  Here are some of the add-on's we recommend checking out yourself to increase your productivity while using the web.
Browser Extensions For Improving Productivity
Although Chrome is one of the most widely used web browsers in use today, many of these add-on's will also work with other browsers such as Firefox, Safari, and Edge as well.
Readability – This add-on is called a read-later app, so you can save any web page, article or blog post to your reading list and come back to it when you're ready.  The extension also strips away distracting elements like ads, showing you with a simple and clean interface for reading web pages.
Evernote Web Clipper – Evernote itself is a great app for keeping and taking notes, and the Evernote Web Clipper add on is a great addition to the tools they offer.  Anytime you find something online you want to remember, come back to or save for later, click on the web clipper addon and save it to your Evernote account.  You can use it to save images, text, links, or entire webpages, which will be ready for you in your Evernote whenever you need them.
Buffer – This is a great add-on for scheduling and sharing content on social media, and the extension allows you to publish content from anywhere on the web with just a mouse-click. When you find something, you want to share, click the buffer add-on icon in the browser toolbar, write out your social media content and publish it immediately, or add it to the buffer add-on queue.
Add to Wunderlist – If you work with to-do lists and want to be able to add items to your list from any website, the Wunderlist add-on could become your next favorite tool!  You can use the Wunderlist add-on to quickly save great ideas for a blog topic, online tool, or information from an article you may want to come back to later.  Simply click the browser add-on icon to add that page or site to your Wunderlist.
UBlock Origin – There are many add blockers available for your browser, but UBlock Origin stands out from the rest.  This is a free browser extension used for content filtering, including ad blocking.  You can safely stop annoying add's from displaying on your browser while remaining CPU and memory efficiently.
Ghostery – The Ghostery extension is a great tool for seeing what is tracking you when you visit a website, and blocking any potentially harmful content from accessing your computer from a site.  This add-on removes your data points from tracking software running on websites, and also can help improve your browser performance by blocking trackers.
An Efficient Browsing Experience
There are many great add-on's available for your browser, but those we mentioned are just a few that can bring you a more efficient and safer browsing experience.  Some add-on's like those mentioned above may serve a more specialized purpose such as Buffer, and other's like Wunderlist and UBlock serve a more general purpose and may make sense for anybody to use.
If ensuring you and your team are working as efficiently as possible, and want to find out more about how you can improve you teams work efficiency and safety while online, give us a call today!