When TMS Titanium required increased IT support for their growing business, they selected Natural Networks to provide across-the-board IT solutions.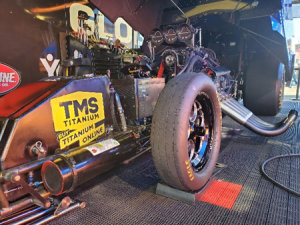 TMS Titanium is a leading titanium metal distributor. Located in Southern California, they supply products to the aerospace, medical, racing, and commercial industries. Their product and industry knowledge, combined with their reliable inventory, allows TMS Titanium to continually supply their customers with the titanium they need. As a result, information technology impacts heavily on their daily business. Todd Harrison, CEO, states: "We have lots of IT needs between communication and files we use."
Initially, TMS had an in-house friend helping with their IT issues, but they needed someone more reactive who could provide constant and immediate service when needed. As the company grew, their requirements for IT care and maintenance increased. After receiving a positive endorsement from a referral, TMS chose Natural Networks to provide all encompassing IT support.
The Situation: A need for an efficient and consistent full service IT company
Natural Networks provided TMS with a personalized IT solution and all the necessary tools for handling their business growth. Natural Networks became their network and telephone provider and set them up with hosted email. They put TMS on a fully managed service to deal with their normal daily IT issues and upkeep. Natural Networks also began proactive monitoring and maintenance of all their IT systems.
The Solution: Partnering with Natural Networks for effective and reliable IT support
Natural Networks and TMS continue to have a great working relationship. Natural Networks offers TMS fully managed IT solutions that cover all their technology needs, such as:
Monitoring and support 24 x 7 – guaranteeing that TMS technology is continuously performing at its best
Comprehensive security solutions – including firewall, antivirus, and malware removal. Natural Networks ensures TMS systems are well protected
Unlimited help desk – with an experienced and knowledgeable team of Natural Networks technicians
TMS Titanium recommend Natural Networks to other businesses in their industry. According to TMS' Todd Harrison, Natural Networks "keeps us operational so we can do our normal daily jobs and not deal with IT issues."
Natural Networks' responsive and personalized solutions cover every aspect of TMS Titanium's IT needs. Contact the experts at Natural Networks today at (619) 222-3232 or send us an email at sales@naturalnetworks.com, to talk about how our managed IT solutions can help your business too.