Is your current phone system not keeping up with the demands of your business, or do you find your company missing calls, or, worse yet, sales, due to lacking functionality or features? Or, do you just need one? A new Voice over IP (VoIP) telephone system from Natural Networks may be the answer. With our new VoIP solutions in San Diego and throughout the country, you can be rest assured that your business needs will be met and far exceeded.
Our Many Benefits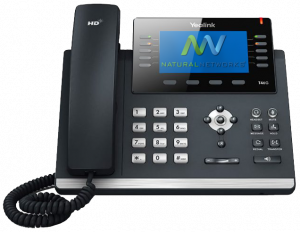 Fully Managed: Our experts actively manage your phone system and are one call or click away at any time.
Turn-Key White Glove Solution: Training, configuration changes, and staying up-to-date in the Cloud.
Never Miss Another Phone Call: Calls can be forwarded automatically to your cell phone even if your office experiences a power outage.
After Hour Calls: We can set up recordings and program so that callers can dial other extensions and emergency lines.
All of the Features of an On-Premises Phone System including Auto Attendant, voicemail to e-mail, and Call Forwarding.
No Paying for Unused Extensions: Save money by only paying for phone lines that are currently used.
Use Your Smartphone as Your Office Phone: By downloading our app on your smartphone, you can use your cell phone as your office phone, i.e. transferring calls and conferencing.
Call Recording: Useful tool for training new employees.
Instant Dialing: Speed dial any phone number from your computer with just a press of a key.
Computer/CRM Integration: Increase efficiency by managing calls with your computer.
IM & Video Conferencing: Communicate more effectively with Instant Messaging and Video Conferencing.
Online Meetings: Quickly and easily host and join online meetings.
Avoid Obsolescence: We keep your phone system current in our Cloud.
Multi-Site Capabilities: Seamless phone operations throughout all of your office locations.
Phone Services for Off-Site Staff: Keep all of your staff connected seamlessly no matter where they are.
Ability to Take on Your Company's Workload– With optimized technology, your VoIP system will never go down because too many calls are being made, and the system can grow with your business.
Low-Cost and Easy to Install– Installing and setting up a new VoIP system in your office is easier and more affordable than you might expect. Our trained staff will not only provide all of the necessary training and help to make the transition smooth and worry-free, but we can also help you find the right solution that meets your budget.
If you're not happy with your current phone solution, have outgrown your existing system, or are looking for new features; call us today!