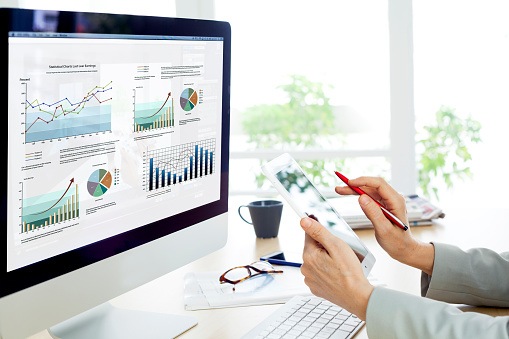 You may experience application pauses if you have a large Outlook data file
For many, Microsoft Outlook is one of those programs that's at the heart of every persons workload.  It provides an easy to use view of your Email, a central location for all of your contacts, a powerful Calendar view, and much more.  For many, Outlook is an essential program which is open from the time work starts, to the time you go home for the day.
Outlook is a great essential program for getting organized and getting work done, but it may also be contributing to slowing your computer down.
What Causes Outlook to act Slow?
When Outlook is set up, it creates a local file on your computer where all of its data is kept.  This is called a .pst file, or in some cases depending on the type of email account you use, an .ost file.  The difference between these two file types is that the .pst is for personal folders, typically common with more traditional POP or IMAP email accounts provided by companies like Google, Yahoo, GoDaddy, and other email providers.  An .ost file is known as an offline folder, which is reserved for Microsoft Exchange accounts.
If you experience significant slow down with your computer while Outlook is open, your computers Outlook data file may be the culprit.  If the corresponding .pst, or .ost is greater than 10 GB in size, it's likely to act slower.
What kind of performance can you expect with smaller – larger Data Files
The following list summarizes expected behavior based on the size of your Outlook data file.
Up to 5 GB: This file size should provide a good user experience on most hardware.
Between 5 and 10 GB: This file size is typically hardware dependent. Therefore, if you have a fast hard disk and lots of RAM, your experience will be better. However, slower hard disk drives, such as drives that are typically found on portable computers or early-generation solid-state drives (SSDs), experience some application pauses when the drives respond.
More than 10 GB: When the .ost file reaches this size, short pauses begin to occur on most hardware.
Very large (25 GB or larger): An .ost file of this size increases the frequency of short pauses, especially while you are downloading new email messages. However, you can use Send/Receive groups to manually sync your mail. For more information about Send/Receive groups, see the "Are you synchronizing many RSS feeds?" section.
Reducing your Outlook Data File
Reducing the size of your Outlook data file can help restore the speed your used to while using your computer.  To do this, you need to either move, or archive items from the data file Outlook is using.
Archiving you're email is the simplest way of reducing your Outlook Data file load.  To Archive you're email, follow these quick instructions provided by Microsoft here.
For Exchange accounts that use an .ost data file, you can also use synchronization filters for profiles which are using Cached Mode.  Microsoft provides a great step-by-step guide to doing just that on their Guide to optimizing Outlook.
If you're using Outlook 2013, or Outlook 2016 with an Exchange account, you can also utilize the Sync Slider if in Cached mode.  The Sync Slider allows you to choose how many months of email messages are synced with your .ost Data File.  Microsoft also provides a great step-by-step guide on doing this as well.
With a smaller Data File size, you will have a more optimal experience while using Outlook.  There will be less junk to sort through, and you'll find yourself getting more work done.
If you found this informative and helpful, we encourage you to sign up for our newsletter for even more great tips to help you compute better!