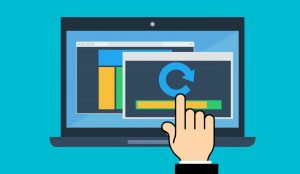 Updates for our computers and other devices are released all the time.  It's important to keep our computers, phones, servers, network equipment, and all other electronics we use updated.  Updating our devices helps to keep them secure and increases their usability. With so many devices under your control - from tablets, to phones, to workstations, and servers - it can be overwhelming to keep all of these devices up-to-date.  That's where a managed IT services company, like Natural Networks, can come in and help by managing your updates and keeping your devices secure.
How Can Patch Management Benefit Your Office IT
Your office is likely using workstations, a server, and network equipment, such as a firewall and switch, to stay secure while using the Internet and to conduct business day-to-day.  The manufacturer of these devices and software release a bevy of updates on a schedule or when they feel it's necessary either to support new technology or for security reasons.  Keeping up with all these updates can be difficult, which is where a patch management solution comes in handy.
Patch management features a process to detect missing patches (updates), install these patches and hotfixes (which are released by the manufacturer) and provide instant updates to the latest patch deployment status.  This can all be handled automatically by a managed IT company, like Natural Networks, so you can have peace of mind that your workstations, servers, and other devices are always up-to-date with the latest available software.
There are vital of reasons for keeping your devices updated on a regular basis. Here are a few:
Security. Making sure your computers are updated keeps you secure. New vulnerabilities are discovered in software, like Windows or MacOS, all the time, and keeping your operating system current ensures less chances for cybercriminals to infiltrate.
Productivity. Updating software ensures its usability over time. As technology grows and new features become available, updates ensure that your devices are able to continue working and taking advantage of these new features.
Reliability. Keeping all your devices up-to-date future proofs them so they can continue working as you need them.
Updating Phones, Tablets, and Other Devices in Your Office
Often, we may not even realize when there are updates available for our devices that could really benefit productivity and security.  Manufacturers do their best to keep us informed about when an update is available through notifications, emails, or other means, but it doesn't always reach us, or we may simply put it off.  Many devices, like our phones and tablets, however, can automate updates and warn us when updates are ready to install.  Updates to our mobile devices can improve performance, battery life, and usability, so it's a good idea to keep your phone and tablet up-to-date.
Firewalls, access points, and switches – our network equipment – also, periodically, have updates we may not even know about.  Updating the firmware on network equipment can be difficult for those that are not familiar with it.  A managed IT company, like Natural Networks, has experts who can ensure your network equipment is running the latest possible firmware and security patches at all times.
Keeping your IT office equipment updated can be a hassle, but with the right tools and team to help you, it can be easy and spare you from any downtime.  If you are interested in learning more about how Natural Networks can keep your IT up-to-date and maximized, give us a call today!