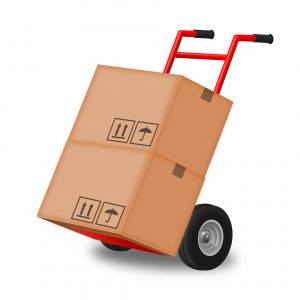 New year, new office: Natural Networks has moved to a new location!  As an IT provider we have managed moving IT and network equipment for many of our clients.
After assisting so many of our clients with moving their IT infrastructure to a new space, we thought it would be a good idea to share some helpful tips and tricks that we've picked up along the way.
Organization is Key
Knowing what IT items need to be moved, and what is needed to get your staff back online quickly is essential.  Identify what equipment needs to be moved, IT items like; Servers, Network Attached Storage, Firewalls, and other equipment that are needed for staff to work should be prioritized, so that your team can get connected and working as soon as possible.
Once all of the IT equipment is identified and ready to move, you can then pick the best day and time to move everything to your new location.  We recommend shutting all equipment down on a Friday morning or mid-day Friday depending on the size of your environment.  If possible, you can try to plan your move in a 3-day weekend and shutdown mid-day Thursday instead.
Planning Your Move
Some downtime during a move is inevitable but coordinating your move and scheduling when things will come offline and be back online will help minimize that idle time as much as possible.  Knowing what to move and when to move it will help keep your move organized and going smoothly with minimal interruption to daily operations.
Knowing how to safely shut down your equipment and move it is an important factor when moving your IT items to a new location.  Ensure that nobody is actively using these items: network storage devices, servers, printers, and any other office equipment.  There should be a specific time set for when all users are expected to have their computers off and ready to move.  Ensure that you shut down all of your IT equipment safely, by logging into each item and shutting them down from within each item's own software.  It is never recommended that you simply pull the power cord from these devices.
When the day finally arrives to start physically moving things to the new location you should have everything ready to move together at the same time.  In most circumstances, your IT team should move equipment such as workstations and printers before other movers arrive to start loading and transporting furniture.  Other IT items like switches, firewalls / routers, servers, and similar gear should ideally be moved after the furniture and workstations have been moved.  With the right planning and coordination between movers, IT staff, and team members, your move should go smoothly with as little downtime as possible.
At Natural Networks we've worked to move many of our clients IT infrastructure, and we know firsthand that no one move is the same as any other.  But with the right planning and organization, we have been able to help get clients, large and small, moved quickly and efficiently.  If you're planning a move and have questions about how we can help with your IT in the process, give us a call today!