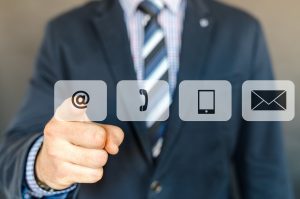 VoIP (Voice over Internet Protocol) technology has become one of the primary means of voice communications and media sessions for thousands of businesses all over the country today.  This method of communication has helped to streamline the way businesses interact, from small offices to large enterprises alike, as well as build teams and more effectively talk to staff and customers.
With the advancements of VoIP offerings over traditional landlines, it's easy to see why businesses are deciding to switch.  Natural Networks is a fully serviceable VoIP phone provider, and can help you understand the benefits of using VoIP to improve your communication flow.
What Benefits Can VoIP Provide
Voice over IP offers more than just a way to replace your phone.  It includes several other technologies, like instant messaging, sharable calendar events & meetings, voicemail, and several other features that a traditional phone line doesn't offer.
Take Your Phone with You Anywhere. One of the greatest benefits of having a VoIP line is the ability to incorporate your computer, or your cell phone, with your personalized VoIP phone number.  With VoIP, your phone goes with you anywhere you go.
Easily Forward Calls and Never Miss Another Call Again. Managing your VoIP phone number is easy. You can quickly forward your call to your mobile (or any other number of your choosing) through the applications on your computer while you're away.
Rich Application Experience. VoIP offers more than just a means of calling to and from a phone number. VoIP provides a rich set of applications that can help your team communicate better. Take advantage of features, like instant messaging, sharable calendar events and meetings, voicemail, just to name a few, but with the convenience of having it all under one umbrella.
IM & Video Conferencing. With VoIP phone service, you and your team can quickly communicate with built-in instant messaging, and video conferencing.
Includes All the Services of an On-Premises Phone System. With VoIP, you still get all of the same benefits as a legacy phone system including auto attendant, voicemail to email, and call forwarding.
Fully Managed. One of the best parts of using a VoIP phone system is that your VoIP provider, like Natural Networks, fully manages the system for you so you can easily make adjustments or ask questions to one of our VoIP experts anytime you need.
VoIP continues to help businesses grow by streamlining and improving their communication technology.  Communicating effectively is a vital part of any business model and with a team of experts and a VoIP provider like Natural Networks, you can vastly improve your communications today.  If you're interested in learning more about VoIP give us a call today.