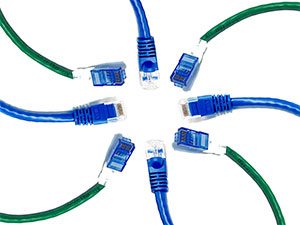 There have been several innovative leaps in networking technology over the last several years allowing end users to load websites faster, open multiple browsers and online applications, and, overall, work more efficiently when utilizing the Internet.  Switches, routers, ethernet cables and other network gear have moved up from providing 100 Megabit per second speeds to 1000 Megabit, or Gigabit speeds.
Today, nearly all of the basic network equipment needed to setup a complete local network in your home or office is capable of reaching at least 1 gigabit per second speeds.  New ethernet cable standards such as Cat6A, Cat7, and even Cat8-based ethernet cables, however, are now making it possible to reach even faster speeds than ever before.
Technological Advances in Network Speeds
Technical advances in network equipment have now enabled the possibility of reaching even greater speeds in your local network.  Gig+ or 10-Gigabit speeds are now becoming possible with the proper network gear and ethernet cabling.   Keep in mind, however, that if your home or office is unable to take full advantage of the wider bandwidth, then setting up your office for 10-gigabit speeds may not be worthwhile.
If you are planning to build out a future-proof 10-gigabit network at your home or office, you'll need to consider the cable infrastructure needs as well as the network equipment requirements.
Currently, there are three forms of ethernet cable that are rated for 10-gigabit speeds:
Cat6A – This ethernet cable is a Category 6 Augmented cable, which supports 10 Gigs for up to 328 feet of distance.  When compared to Cat5, Cat6 is thicker, operates at a 250 Mhz frequency, and has tighter twisted pairs reducing interference.
Cat7 – "Category 7" or "Cat7" ethernet cables support up to 10 gigabits per second of data and transmission rates up to 100 meters on copper cabling.  Cat7 cables are also individually shielded and have been designed to transmit signals of up to 600 Mhz frequencies. Because Cat7 Ethernet cables are not officially recognized by the IEEE standard and have more than one connector option, we recommend avoiding these cables.
Cat8 – Category 8 ethernet cables are the officially recognized successor to Cat6A cabling.  The main benefit of Cat8 ethernet is faster throughput over short distances.  Cat8 is capable of delivering 40 Gbps for up to 78 ft., and 25 Gbps up to 100 ft.  From 100 ft. to 328 ft., Cat 8 ethernet provides 10 Gigabit speeds, similar to Cat6A.
For almost all cases, anyone looking to build a 10-gigabit capable network should use Cat6A ethernet cables.  This is because Cat8 cables are limited by their distances for delivering their highest rated speeds, and, hence, are only useful in some situations, such as in a datacenter.
You will also need to consider that all other hardware is capable of transmitting data at Gigabit+ or 10-gigabit speeds.  This means that your router or firewall will need to be 10-gigabit capable as well as your switch.  Any other network gear such as Network Attached Storage (NAS), or Wireless Access Points will also need to be capable of 10-gigabit speeds or else they will only be able to operate at maximum at up to 1-gigabit per second.
Most devices are still only operating at 1-gigabit per second speeds, but it is becoming more common to see these devices offering 10-gigabit, or at least multi-gigabit capable ports. If you're looking to build out or upgrade the network at your office, you should give us a call today!