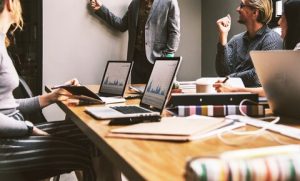 Microsoft Teams is a great tool that you can use to communicate efficiently between offices and team members.  Teams comes with a great collection of unique uses which can enhance your office communications.
Using Channels in Teams
Channels allow you to create dedicated sections within a team in order to keep conversations organized by topics, projects, and disciplines. They can be topic-specific chat rooms as well as organized conversations in Microsoft Teams and where the work is actually getting done.  Create a team or channel to have a conversation within your department, discuss a project, or just to have fun discussing any subject-matter or sharing content like files or even memes and GIFs. You can also create private channels, which limit the conversation to particular members of the team if you'd like.
Setup a Team in Microsoft Teams
Creating a Team in Microsoft Teams is a great way to collaborate and communicate between individuals working on a project or who share similar workloads.  To create a team within Microsoft Teams is easy, and can help keep everyone on the same page.
To create a Team:
First, click Teams  on the left side of the app, then click Join or create a team  at the bottom of your teams list.
Then click Create team  (first card, top left corner).
Choose Build a team from scratch.
Next, you'll want to choose what kind of team you want this to be:
To limit content and conversation to a specific set of people, choose Private.
For a community or topic that anyone in the organization can join, choose Public.
Name your team and add an optional description.
When you're done, click Create.
What's the Difference Between Teams and Channels?
Teams and channels each play a unique part in the Microsoft Teams ecosphere.  Using each one to their advantages will help to ensure the best communication between users.
Teams are groups of people brought together for work, projects, or common interests.  Teams are made up of two types of channels – standard, which is available & visible to everyone, and private, which is focused, private conversation with a specific audience.  Each channel is built around a topic like "Team Events," a department name, or just for fun.
Channels are where you hold meetings, have conversations, and work on files together.  The tabs at the top of each channel link to your favorite files, apps, and services.
Microsoft Teams offers Microsoft 365 users a lot of great methods to communicate and stay in contact with one another.  If you'd like to learn more about the newest applications and technologies, be sure to read more at our blog.  If you are interested in learning more about how managed IT Services can help your business, give us a call today.