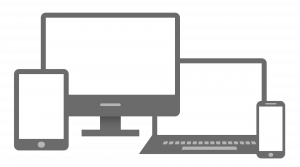 Tablet computers have made significant strides and advancements since the early days of the original iPad.  The latest tablets have really undergone a lot of polish and come into their own space as a tool that can be used to gain real productive value from everyday tasks.
There are many unique niches that tablet based form factors have proven to fit very well in.  Interactive displays, extreme mobility, point of information gathering, and other various uses are all well maintained by tablet-based computers.  So, if you're looking to utilize tablet-based computing in your small or medium sized business, what's the best model and manufacturer to go with?
Finding the Right Tablet For Your Needs
Apple iOS and Android based tablets are the two main competing forms, and each have their own set of hardware, software, and cloud based standards.  Apple offers a smooth and polished software and hardware experience, with many of the applications in the iOS environment requiring a little more finish and functionality than the Android counterparts.
This helps Apple maintain a curated app store full of rich content based apps, but the down side to this is that this means there may be fewer apps or versions of apps available compared to Android based tablets.  If the tablet is meant to serve a very specific purpose, and is meant to fill a unique niche at the office, you should make sure that the app you need to fill that role is available on the platform you want to use.
Apple based tablets come in very ridged form factors as well.  These are the various forms and sizes Apple currently offers:
9" HDR iPad Pro
11" iPad Pro
9" iPad Air
3" iPad Mini
2" iPad Standard
These are the only sizes that Apple currently offers for their iPad lineup, so if your planning to use the iPad in a smart-designed office space then make sure that the measurements for your iPad signage line up properly.
Apple's hardware offerings are also very rigid compared to their Android based counterparts.  Apple iPad devices will force you to use their specific hardware adapters and software environment as well.  So if you do plan on implementing either an iPad or Android based tablet, you'll need to stay completely within that manufactures umbrella of services.
The iOS based tablets feature some of the best hardware to be brough to a mobile space however.  The iPad Pro based tablets both include the all new M1 based CPU that Apple designed specifically for their own hardware.  The M1 chip has brought cutting edge battery life, security, memory and GPU utilization all within their 11" and 12.9" tablet computers.  You can get the iPad Pro series devices with 256 GB, 512 GB, 1 TB, and 2 TB versions.  Although price does scale exponentially with each higher level of storage you choose.
The lower tiered iPad, iPad Mini, and iPad Air models offer a 64 GB, and 256 GB variant as well.
But if Apple doesn't cut it for your needs, there's a huge variety of Android based tablets to choose from as well. Samsung Galaxy Tab is a great all-round alternative to the iPad pro, which sports it's own 12.4" inch AMOLED display and beautiful color quality.  You can also add on all of your favorite productivity apps from Google or, Microsoft.
The Lenovo Smart Tab P10 is also a great Android tablet offering, including a Snapdragon 450 CPU, it's own dock, and running the latest version of Android Oreo.
The Amazon Fire HD 10 is also another top android tablet competitor, offering a 10" inch or 8" inch variant, the tablet includes tons of great benefits for Prime subscribers, making steaming, viewing, and displaying video much more simplified.  If you're planning to utilize tablets with for your sales team, this might be one to consider.
There are so many use cases that tablets can help facilitate in today's office.  With mobile computing becoming ever more present, having a mobile computing device for your on-the-go team can give them the edge to perform that much better.
If you want to learn more about how Natural Networks can help manage your mobile based computing platforms, give us a call today!