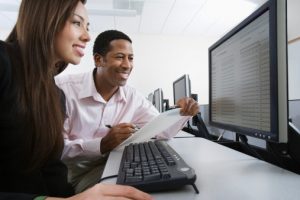 Small to medium-sized businesses, large corporate offices with multiple locations, and specific industries, have a diverse need for IT solutions.  A managed services provider is able to provide for numerous technological needs ranging from server solutions to Voice over IP (VoIP) implementation, to IT support for you and your employee's.
Managed IT service providers, like Natural Networks, implement a host of solutions that work toward making the IT infrastructure of your office easy.  One of the biggest benefits of working with a managed solutions provider is in preventative care for your critical business systems.
Much like our own bodies, it's best to prevent illness versus dealing with it after it already affects us.  Our workstations, servers, and other business equipment work in much the same way.  It's best to prevent viruses from infecting our computers, as opposed to removing them after they've already penetrated your systems.  Natural Networks implements active workstation monitoring, allowing their IT experts the ability to monitor your workstations and servers for threats, and implementing fixes and updates before problems arise.
Cyber criminals today implement a vast array of strategies to target and attack potential vulnerabilities in your office using techniques such as social manipulation, email phishing, or malware to infect your workstations and steal data from your company or clients.  A managed IT services provider can help prevent these problems from happening by educating your employees about these threats and securing your computers through anti-malware software, spam filter service, and active monitoring.
What are the Benefits of a Managed IT Solutions Provider?
All in one. Having one company that can help you, your employees for all of their IT needs is a huge time saver and hassle for your organization; it eliminates all the finger-pointing. A managed IT solutions provider has experts trained in the technology your company uses and is one phone call away when you need them.
Solid communication. Whether it's email or your phone system, a managed IT services company can provide the answers that make communicating with your members and customers dependable and secure. A managed services provider, like Natural Networks, provides safe and protected email as well as full service phone solutions for reliable and efficient communications.
White glove service. When your employees have problems with their computers and devices, your IT provider is there to help 24 hours a day, 7 days a week. No matter what the issue could be - new computers, upgrades, a virus or other forms of malware, and advice on the best technology for you and your business - your managed IT solutions provider can take care of your computing needs.
Constant cyber monitoring and security. Hackers are continuing to get more and more savvy about how they gather your information and/or attack computer systems to retrieve data. Having a managed service provider helps to add an extra layer of protection to your infrastructure by constantly monitoring your network and taking preventive measures to stop cyber criminals in their tracks so much so that you are normally not aware that an attack took place.
Emergency Disaster Recovery. In cases of disaster, like fire, flood, or theft, Managed IT Providers, like Natural Networks, are able to help recover your data from offsite backups.  They can even provide cloud-based access to your business's data so that you and your employees exhibit virtually no down time and continue to work while you get back on your feet.
By working with a managed IT services provider, you have the assurance that any IT needs that your business has are taken care of by trained experts who are familiar with your specific network and computer infrastructure.  If you're interested in learning more about how Natural Networks can help you with your business IT solutions, give us a call today!