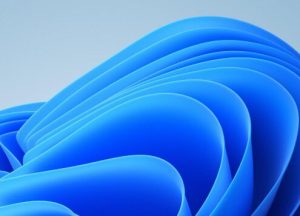 Microsoft has teased the latest version of its newest operating system Windows 11; however, recently, a version of the new OS was leaked to the Web where users were able to download and preview the latest Windows 11 build.
In the leaked Windows 11 version, tech reviewers found a lot of new features, an updated start button, and several new updates to the OS's look and feel.
New Features of Windows 11
Microsoft has been implementing touch-based features into its OS platform for several years; first introducing it with Windows 8 tablets and then continuing the touch-based gestures and features into Windows 10.  Windows 11 takes this even further, allowing for users to now use a new Start Menu that has been optimized for touch rather than click.
The new Start Menu is in the center of the taskbar, although it can be moved back to its traditional location in the bottom left corner.  Upon opening the new Start Menu, you're greeted with snazzy windows showing pinned items, recent documents, applications, system preferences and more.  The Start Menu is even more customizable than the Windows 10-based Start Menu and features the Start Search bar at the very top instead of at the bottom of the menu.
Perhaps one of the most shocking updates revealed in Windows 11 has been the new integration of Android apps which can now run natively in Windows 11.  The new Microsoft Store has enabled the Amazon Appstore to work within it, bringing along with it over 500,000 apps such as Disney Plus, TikTok, Netflix, Uber, and much more.  The addition of Android Apps is a welcome feature to the often-barren feeling Windows Store.
Microsoft is also taking another crack at widgets, with a newly designed widgets interface.  Microsoft seems to have had a love/hate relationship with widgets, introducing them for a time before discarding them entirely and then again.  This time, we're hoping they hit the mark with a new AI-powered customizable news and events feed, a calendar and to-do list, and recent photos widgets.
Microsoft is also integrating the Teams app directly into Windows 11.  Teams is used for video chat, text chat, meetings, and can be downloaded and used across multiple platforms such as iOS, Android, and of course Windows.  The Teams app in Windows 11 will appear in the taskbar where you can quickly jump into messaging, text, voice, or video calls.  You can also launch the full version from the taskbar as well.
One of the last features that really stands out is how Microsoft introduces virtual desktops to Windows 11.  With Windows 11, it is easier to create separate virtual desktops where you can separate work from personal or have multiple projects that you can quickly jump in and out of on their own dedicated desktop space.  From the Microsoft demo, it appears you can pop-up multiple desktop windows at the bottom of the screen, scroll through, create, or remove new virtual desktops on the fly.
We're really excited about these new features on Windows 11, and we're looking forward to seeing what else Microsoft could bring to the Windows 11 Operating System.  Although Microsoft has not yet announced an official release date for Windows 11, some speculate it could be coming by late October of 2021.  If you want to learn more about the latest tech and how it can help you in your office environment, give us a call today!