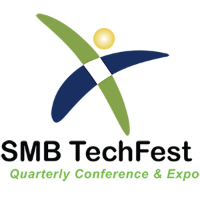 Anthony Polselli, owner of Natural Networks was a featured speaker at the recent 2017 SMB Tech Fest.
Anthony has over 28 years of experience with SMB technology and over 23 years of experience running a successful MSP, Cloud, VOIP provider, and cabling contractor. He is a member of Vistage, ProTier, and a C7 licensed contractor. He has assisted companies of all sizes and all over the country, and a few outside the country, in making sure their technology is in-line with the goals of the business. When he founded Natural Networks in 1994, he had one goal, to provide reliable, efficient, and cost-effective, comprehensive IT solutions that would help businesses to reach and exceed their desired level of success.
Anthony spoke to over 200 other technology business leaders, about the direction of VOIP.  Anthony has spent the last 2 decades building his own technical and business prowess, and shared his insights and expertise to the large audience of business owners at the TechFest.
The SMB TechFest is a quarterly event which brings together business leaders from all over, where they can converge and learn about the industries in which they take part in. Learn more about the SMB Tech Fest, and check out other great speakers and experts.