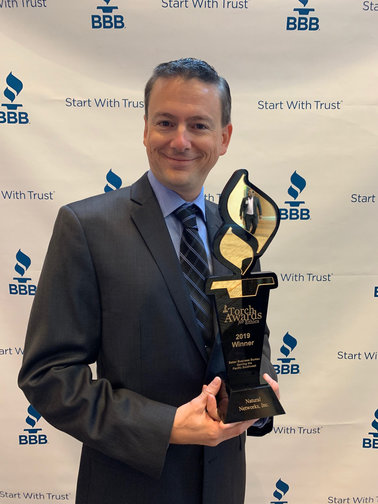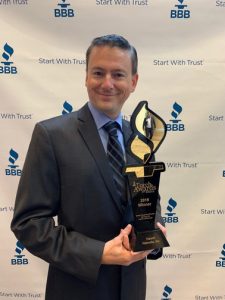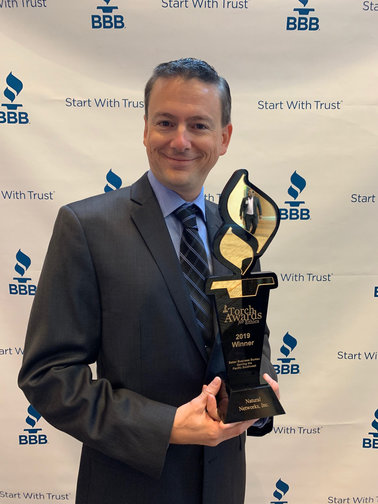 We are proud and humbled to announce that we won the prestigious BBB Torch Awards for Ethics for 2019! Competing against 20 other companies throughout the Pacific Southwest, we ended up a finalist.
The BBB Torch Awards for Ethics seek to elevate and celebrate the commitment made by for-profit and non-profit enterprises to the highest standards of leadership, character, ethics and ethical enterprising. It brings attention to the practices that these organizations employ to generate a high level of trust among their employers, customers and their communities. The program embodies BBB's mission of advancing marketplace trust.
On October 9, 2019, we attended the BBB Torch Awards Luncheon and was declared winner. Shocked and thrilled, our CEO, Anthony Polselli, approached the stage, was handed the beautiful shiny, reflective trophy, and began his accepting speech with, "Wow." He thanked the BBB and our talented team for their hard work and dedication and emphasized the belief that Natural Networks has in long standing relationships and growing with our clients as a partnership.
Natural Networks, Inc., has served San Diego and surrounding areas for over 25 years as a premiere technology solution provider for small to medium-sized businesses. As a managed services provider, we service the technology needs of businesses including phone, internet, computers, cloud, disaster recovery, and cabling. The company's solutions are managed in-house by a skilled team ensuring clients are running at peak performance. At Natural Networks, the organization believes in partnering with clients and have found that offering strategic guidance and support helps its clients properly, operate more efficiently and successfully.
We thank our clients, families, community, and last – but definitely not least – employees for making this happen. We look forward to another prosperous 25 years.
Check out our BBB Torch Awards for Ethics Winner video!